As a member of Yamaha Motor Group,
we are developing a wide range of businesses that take on a key role in business operation.
CONCEPT
Business Concept
In order to realize Yamaha Motor Group's long-term vision (Art for Human Possibilities), we, Yamaha Motor Biz Partner, with the mission of being the "Corporate Engine that Drives Human Resources and Business," are working hard to integrate and optimize business operation. In addition, we are working on the cultivation of professional personnel and the pursuit of meaningful and efficient work. We are contributing to the implementation of "Lead and Support" by transforming the areas of human resources, general affairs, finance & accounting, logistics, indirect material procurement, and insurance; each of which is a fundamental of corporate activity.
※ What is ART for Human Possibilities?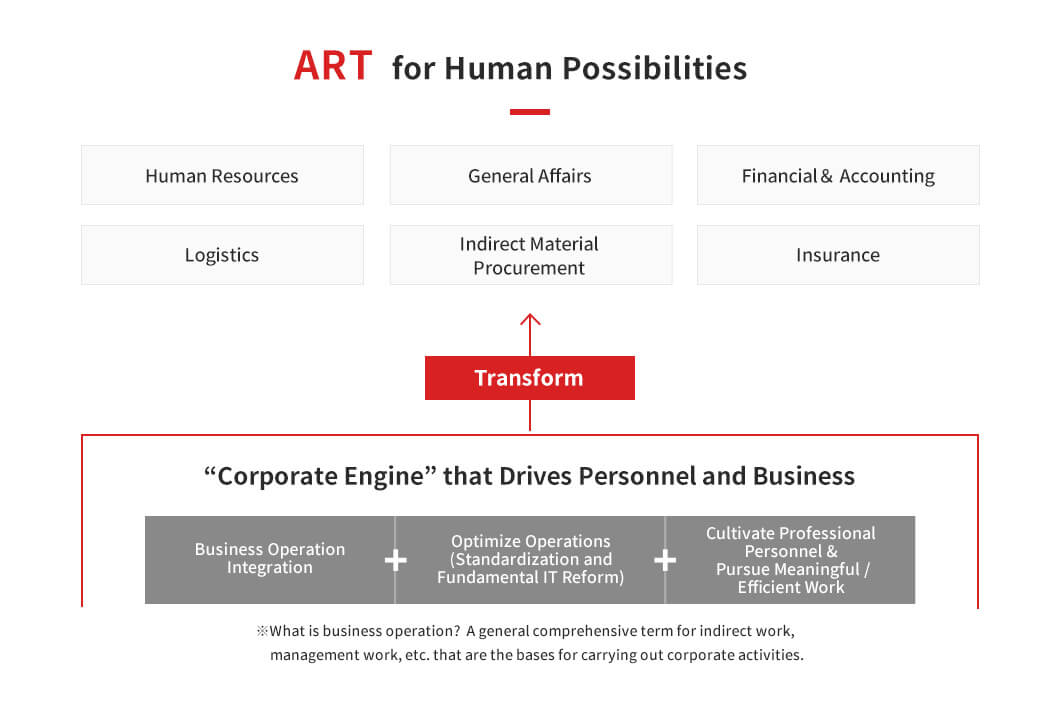 List of Businesses
Human Resources

We are involved in personnel / labor system operations, transfers / personnel management, salary / bonus / severance pay calculation, social insurance, personnel information management, overseas assignee relocation administration, personnel systems maintenance control, education / training, recruitment, etc.

General Affairs

We carry out the construction and management of factories and offices, which are the facilities needed for business and corporate activities. We provide an exciting, lively workplace and environment and help improve productivity. We contribute to the health, security and comfort of the employees.

Finance & Accounting

From financial systems to managerial accounting, we are responsible for a wide range of fields. We handle finance & accounting operations, financial reporting (non-consolidated and consolidated), and preparation of financial disclosure documents for Yamaha Motor. Additionally, we handle budgeting, budgetary control, and the administration of monthly executive officer meetings, etc.

Logistics

We manage logistics and procurement for a wide range of products. We have practical experience in managing imports / exports and trilateral trade, including from overseas locations. In order to bring smiles to the faces of our customers, we work hard every day to strengthen our logistics quality, make deliveries on time, reduce costs, and maintain our logistics capabilities.

Indirect Material Procurement

We carry out procurement and supply operations in a wide range of areas for Yamaha Motor Group and partner companies, both in Japan and overseas. This ranges from procuring consumable goods necessary for daily business and production activities, to tools, grease and oil. We also deal in capital investment projects such as construction, maintenance parts, and mechanical equipment.

Insurance

We not only meet the needs of our customers, but we go above and beyond to identify risk in its entirety, including unrecognized and potential risks. Our mission is to propose high-quality risk solutions based on appropriate assessment and analysis.